Scooterbod & Halcyon
The Stadium Brand Lives On
It was well-known to scootering enthusiasts in decades gone by as a maker of top-notch goggles, mirrors, and screens.
Yet despite the name's nostalgic connotations, high-quality Stadium products are still being made today.
Many scootering enthusiasts will have come across the brand name Stadium, usually with reference to aftermarket parts and accessories for motorcycles and scooters from the 1950s, 60s and 70s. What's not so well-known is that the Stadium Company has a history dating back more than 100 years.
In fact, the company is still in existence today as The Stadium Group plc. It no longer makes motoring-related parts and accessories, though, instead developing equipment and systems for the electronic technology sector, Stadium as a brand, however, sti i lives on with a nostalgic connection to classic motoring and a reputation for producing quality British-made items; specifically goggles and mirrors - and there's many in our scene with a penchant for the odd mirror or two, or three, or four!
I visited Scooterbod in Hertfordshire (the present owner of the Stadium brand) in connection with its classic motorcycle and car accessories, to get the complete story of this iconic brand and its illustrious history

About Scooterbod
ScooterBod is a new division of a well established and highly respected UK based manufacturing company known as Halcyon, for decades we have been making the highest quality accessories and apparel for the Classic motorcycle industry. During this time we have worked hard to acquire and invent new products for both the Motorcycle and the Scooter market that would further enhance the range of products on offer to our customers. This has led to the decision to offer a specialist site geared solely towards the Scooter and Moped market. With a selection of in-house products such as the range of classic style leather scooter goggles and the newly acquired Stadium clamp on leg shield mirrors, classic Halcyon mirrors and Tax disk license holders as our reccognised accessories.
We have now began to expand our range by carefully selecting high quality products that we feel will be popular within the Scootering market. Over the coming year our range will be expanding constantly with the intention of acquiring new products that we can manufacture and existing branded products that we can stock and offer our customers for a great price.
Andrew Anker
Sales Manager
About Halcyon
Modern accessories don't always suit the style of classic motorcycles. Luckily there are still people who produce quality, period accessories... Halcyon! The older generation may well remember the Stadium range of goggles from years ago. Well, Halcyon is the next generation, having bought the old Stadium tooling around 40 years ago. Right from the start of its involvement in accessory manufacture Halcyon realized that it would never be able to compete on price with the far eastern manufacturing concerns so, wisely, didn't try. Instead Halcyon set out not to compromise on quality, believing - rightly as it turns out from the sales figures - that owners of classics would rather have an accessory that is well made, and if it is going to last then they'd be happy to pay a little extra for it.
As mentioned earlier, this attention to quality has increased the sales of its products, so much so, that Halcyon has recently had to move to larger premises to cope with demand and will be a force to be reckoned with in the classic accessories scene for a long time.
This constant attention to detail is ongoing and the latest development is silicon strips on the inside of the goggle elastic so they don't slide down during wearing. Halcyon works alongside helmet manufacturers such as Davida to make sure its goggles sit well with the classic open face helmets. This has involved adjustments to the sizes and designs of the strap fixing plates - they've got to be longer as helmet design has changed over the years and the original sizes didn't sit properly. When manufacturing is under your own control then it's fairly straightforward to review, adjust and improve. Most of the manufacturing equipment is as classic as the products it produces and in the workshops there are fly presses, punches, geared presses, lathers and thread rolling tools. All good, sturdy and traditional machinery that do the job properly and form part of the heritage that Halcyon is proud to promote.
Ray Anker
Special Thanks to Natalie McGann - OBM Magazine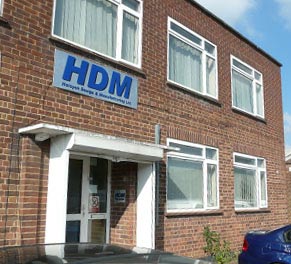 Scooterbod | Manufacturers in Hertfordshire, UK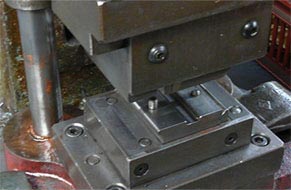 Tools required to make Stadium Goggles